Springfield Personal Injury Attorneys Committed to Assisting Injured Clients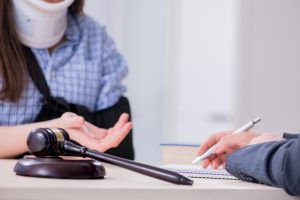 Undergoing an unexpected and devastating personal injury is undoubtedly one of the most challenging and disruptive life events that you can experience. The good news is that having a skilled and Springfield personal injury attorney by your side at each stage of your case – from the initial consultation to the settlement process – makes a world of difference when it comes to avoiding significant amounts of stress, time, and money.
Tom D'Amore is the only NBTA board-certified truck accident attorney residing in Oregon.
The National Board of Trial Advocacy (NBTA) is a nonprofit organization devoted to improving the quality of trial advocacy and aiding consumers in their selection of experienced legal representation. To become board-certified, an attorney must meet substantial professional requirements and undergo a peer review process. The organization is led by a board of directors of noted trial lawyers, law professors, and judges. In the state of Oregon, Tom D'Amore is the only attorney who holds certification in truck accident law and maintains an office within the state.
Tom D'Amore is board-certified with the Academy of Truck Accident Lawyers.
The Truck Accident Law Board Certification by the ATAA (Academy of Truck Accident Attorneys) is the first and only board certification in Truck Accident Law in the country that is accredited by the American Bar Association. The certification, which is in partnership with NBTA, is designed to help consumers choose a qualified truck accident lawyer with objectively verifiable credentials. To become certified in Truck Accident Law, lawyers will have to demonstrate a substantial percentage of their practice to trucking litigation, show hands-on experience in multiple truck accident cases and pass a comprehensive written exam.
D'Amore Law Group has the highest semi-trucking accident verdict in Oregon.
D'Amore Law Group obtained a $26.4 million jury verdict in a semi-truck accident case involving wrongful death and catastrophic injuries, making it the highest trucking verdict in Oregon.
With over 30 years of experience and over 2,000 cases handled, D'Amore Law Group has the knowledge and resources to fight insurance companies. Tom D'Amoreis the only resident Board-Certified trucking attorney in Oregon by the National Board of Trial Advocacy. Tom treats each one of his clients with compassion, care, and zealous representation.
The D'Amore Law Group Difference
The injury lawyers at D'Amore Law Group understand the inherent difficulties associated with personal injury cases and use this insight to offer you an unparalleled level of personalized, sensitive, and effective legal representation. Put simply, we are here to help you rebuild your life and will work tirelessly to ensure that your rights and legal interests are fully and aggressively protected at every step of your case. You can't take the risk of entrusting your personal injury case with any law firm. You need, and deserve, the best. Our success is attributable to our depth of resources and a tireless commitment to our clients in all areas of personal injury matters – ranging from car accidents to workers' compensation.
You deserve more when it comes to legal representation and should not have to compromise on quality when it comes to choosing a Springfield personal injury lawyer. We are dedicated to more than merely providing our clients with average legal assistance. We are dedicated to making your legal needs and concerns our legal needs and concerns as well. Whether it's ensuring you are not bullied by insurance companies during the settlement process, or, getting you the maximum amount of damages you are legally entitled to from a negligent party, we are ready and willing to do whatever it takes, on your behalf, to make the road to recovery that much smoother. Our entire legal team is committed to safeguarding both the present and ongoing interests of each and every one of our clients. Whether your needs are big or small, every case matters to us. You'll receive the same level of personable and knowledgeable legal counsel regardless of your case's complexity or size.
Our Expertise
D'Amore Law Group traces its guiding principles of compassionate legal representation and unwavering dedication to excellence back to its roots. Our founder, Tom D'Amore, is a well-respected trial lawyer dedicated to enhancing and positively influencing the civil justice system on behalf of his diverse clientele. Over the course of 29 years of practicing law, Tom has rightfully earned a commendable reputation amongst insurance representatives, local corporations, opposing counsel, and his peers as a talented, dynamic, and ethical injury attorney who will never hesitate to go the extra mile for his clients. Tom has been certified by the National Board of Trial Advocacy as a civil trial lawyer, and Super Lawyers named him as one of their Top 50 attorneys in the state of Oregon. In 2016, Tom received the Arthur H. Bryant Public Justice Award from the Oregon Trial Lawyers Association (OTLA). Tom has infused D'Amore Law Group with the core principles that have led to his extremely successful career as a litigator: strict adherence to ethical legal counsel, insightful and personally tailored representation, and consistently striving to improve the services offered to clientele. When you collaborate with the staff at D'Amore Law Group, you will discover that each and every one of our employees adheres to the same exact values.
Our Springfield personal injury attorneys have expertly handled countless cases spanning a variety of issues and legal scenarios. Regardless of how nuanced or difficult your case may be, you can rest assured that D'Amore Law Group attorneys will be ready and willing to zealously and effectively advocate on your behalf. If you are in need of trustworthy and effective legal counsel, there's only one place to go to – D'Amore Law Group.
Filing a Springfield Personal Injury Case
If you suffered serious injuries in any type of accident, you are undoubtedly going through a very challenging time. While it is easy—and understandable—to focus on the short-term, it is imperative that you also keep an eye towards the future. Filing a timely claim is crucial.
Under state law, you have only two years to initiate a Springfield personal injury claim. If you wait too long, the court will dismiss your case, leaving you with no way to recover for your injuries.
Preparing to Negotiate with the Insurance Company
Regardless of the type of accident that caused your injuries, chances are very high that an insurance company will represent the at-fault party. Once you file a claim, an insurance company representative will reach out to you. The representative will ask you questions about the accident and your injuries. While the representative may sound sympathetic to what you are going through, they are not on your side. Anything you tell them can be used to deny or reduce the value of your claim.
If the insurance company approves your claim, it will extend a settlement offer. A settlement offer is a proposed agreement in which the insurance company pays you a certain amount of money in exchange for your promise not to pursue the case any further. However, accident victims should be cautious when considering an insurance company's initial settlement proposal. Often, insurance companies will extend a lowball offer early on in the process in hopes of catching you in a desperate moment.
Rather than take the insurance company's word on what your case is worth, contact a Springfield personal injury lawyer. Unlike an insurance company, your attorney works for you and will have your best interests in mind. If an insurance company is not fairly valuing your damages, your attorney can negotiate with them on your behalf.
Contact Our Springfield Personal Injury Attorneys Today
Get in touch with D'Amore Law Group today for a free and confidential case evaluation. The sooner you consult with one of our skilled Springfield personal injury lawyers, the sooner we can assist you in putting this trying time behind you. If you have a personal injury case that requires unparalleled legal services, contact us today via email or give us a call immediately via our toll-free number: 1-800-905-4676.