Dedicated Portland Bicycle Accident Attorneys Ready To Assist You
A bicycle accident can happen in the blink of an eye, but the effects can last forever. At D'Amore Law Group, our highly experienced Portland bicycle accident attorneys fully understand just how debilitating a serious bicycle injury can be for a cyclist and his or her loved ones. If you or someone close to you has sustained an injury as the result of a bicycle accident, you may be wondering how you will pay your medical expenses and deal with lost income on top of how to go about obtaining damages from the parties responsible for your pain and suffering. Our legal team has years of experience representing bicyclists and ensuring that all of their legal needs are met in the wake of a life-altering accident. Contact us today.
Oregon is a widely known mecca for bicycling enthusiasts. Unfortunately, it also has the third-highest percentage of bicycle fatalities in the United States, with bicycle traffic deaths accounting for 4.5% of all traffic fatalities. Bicycling is becoming an increasingly popular method of transportation in the Pacific Northwest region as an eco-friendly solution to transportation, exercise, and recreational needs. At the same time, however, the exponential increase in the number of bikes on the state's roadways has resulted in the failure of Oregon drivers to adapt their driving practices to accommodate sharing this space with cyclists.
The typical injuries associated with bike accidents are severe (approximately 75% of all serious and fatal bicycle accidents resulted in traumatic head injuries). Other commonly reported bicycle accident injuries include broken bones, knee injuries, spinal cord damage, and neck injuries. These injuries can result in costly medical bills and significant pain and suffering. D'Amore Law Group specializes in working with insurance companies and those whose negligence resulted in your injuries. We work hard to obtain the maximum amount of damages you are owed so you can concentrate on the recovery process.
While the Oregon state legislature has enacted several substantial improvements to enhance the integration of the growing number of cyclists on the roads into existing traffic patterns, the fatality and injury rate of Oregon bikers ranks third in the national charts with 3.87 fatalities per million residents. Although Portland and other Oregon communities are relatively bicycle-friendly areas, accidents still happen. On a national scale, one bicyclist is killed in a traffic-related accident every six hours.
The Portland bicycle accident lawyers of D'Amore Law Group fully understand the unique challenges bicyclists face following a major accident. We realize that you may have many unanswered questions as you consider the possibility of taking legal action to obtain a fair and just resolution to your situation. Our Portland bicycle accident law firm is here to answer those questions and offer you the peace of mind that your case is being handled by competent professionals willing to go the extra mile when it comes to your case. Call us today or contact us online.
Bicycle Accident Insurance Issues
If you have sustained a serious injury as a result of a bicycle accident due to a driver's negligence, then the initial $15,000 (which is current Oregon mandated minimum) of your medical expenses will be covered by the personal injury protection (PIP) coverage of your auto insurance policy – even though you were not operating a motor vehicle at the time of the accident. If your medical expenses exceed $15,000 or if you do not have an auto insurance policy, then your private health insurance will cover the cost of obtaining healthcare.
If you lack insurance coverage completely, then the negligent party's PIP coverage will be applied to covering your medical bills up to the first $15,000. Their liability insurance will then pay for any additional needed medical treatment up to their policy limits. If the costs of your medical treatments are greater than the liability cap of the negligent party's insurance, then there is a possibility that you can collect additional compensation via your motor vehicle insurance's Underinsured Motorist coverage.
The insurance claim process can quickly become complex and fact-specific. For many cyclists involved in serious traffic accidents, effectively handling aggressive insurance adjusters who are trying to obtain the lowest possible settlement can seem like a never-ending, overwhelming ordeal standing between you and the road to recovery. The good news is that you do not have to face this task on your own. The competent legal team at D'Amore Law Group is ready and willing to assist you in navigating the insurance claim process to help you increase the amount of your settlement while ensuring your rights are protected at every stage of litigation.
Bicycle Accident Injuries
Bicycle accident injuries vary and are often severe. Pelvic fractures and rectal trauma are some of the more concerning ones. Other common bicycle injuries include broken or fractured bones. Although less frequent, bicycle riders are at risk for eye injuries. Wearing proper eye protection can potentially reduce eye injuries, just as wearing a helmet can potentially reduce head injuries.
What Percentage of Bicycling Accident Result in Head Injuries
The percentage of bicycling accidents that result in a non-fatal head injury is 33%. That means one in three riders sustains brain injury in an accident. All brain injuries, even minor concussions, can have lasting effects. With the help of a bicycle accident attorney, an injured victim can file a compensation claim.  
Be Proactive after a Bike Accident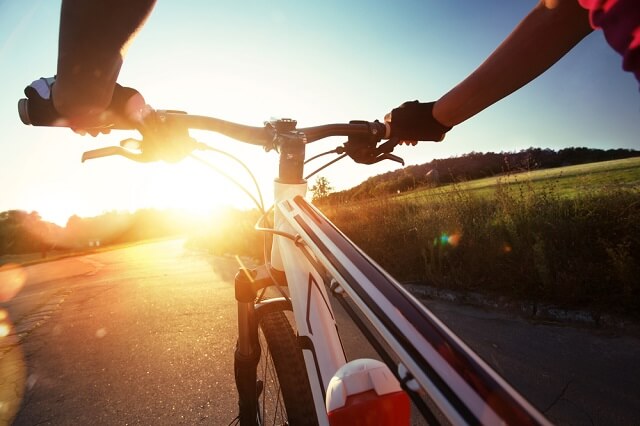 A harrowing event like a bicycle accident can make time stand still. However, the way you respond to the situation in the immediate aftermath is important in order to protect your financial and legal interests. Here is a step-by-step guide on how to take the initiative after you are involved in a bike accident. You should follow this guide so that you and experienced legal counsel (like the attorneys at D'Amore Law Group) can maximize the chances of you recovering the optimal amount of damages in order to put your accident fully behind you.
Get to A Safe Place: The majority of bicycle accidents occur on busy streets and highways. In the immediate aftermath, you as a cyclist are exposed to being struck by surrounding traffic or even first responders arriving on the scene. If physically possible, quickly and safely move to a nearby sidewalk, yard, or parking lot where you are not vulnerable.
Call the Authorities: Do not delay in dialing 911, even if you consider the crash to be insignificant. Inform the dispatcher using pertinent details of the accident, including your location, what happened, and the license plate number of the vehicle you were struck by. Avoid phrases such as "I'm fine" or "I'm not injured." Most 911 calls are recorded and lawyers from both sides can utilize your statements to either strengthen your case or use it against you at trial.
Ensure Liable Parties Remain On-Scene: It is an all-too-common occurrence that negligent drivers depart from the scene of the accident prematurely. Do not simply get the driver's cell phone number and allow them to drive away. If the driver insists on leaving, be sure that you make note of their license plate number, a vehicle description, and a description of what the individual looks like.
Obtain Witness Information: Eyewitnesses are significant components in both criminal and civil litigation when it comes to bicycle accidents. Third-party testimony from witnesses can weaken the opposing party's inaccurate or falsified claims regarding the details of the accident. Speaking with witnesses and obtaining their contact information as soon as possible after your accident can help your attorney in determining the speed of the car, your speed at the time of the accident, and any relevant statements made following the accident by the parties involved.
Gather Evidence: Cell phones are effective investigative tools. They can capture images and videos as well as pinpoint the exact location of an accident using GPS technology. If you have apps such as Strava or MapMyRide, you can obtain further information such as average speed and direction to further support your case.
Talk to Law Enforcement: Be sure to give the authorities your statement of what took place. If you are prevented from doing so due to your injuries, you should follow-up with the police as soon as possible so that your testimony is included in the officer's final accident report.
Seek Comprehensive Medical Attention: Cyclists often opt to not take the ambulance to the hospital immediately after the accident only to realize the next day that they require medical attention. This delay in seeking medical treatment is often used by the negligent party's insurance representative to suggest that they were not seriously injured or to even imply that the cyclist is attempting to commit insurance fraud.
Initiate the Insurance Claim Process: As soon as possible, you should open a claim with both your own and the negligent party's automobile insurance companies. The sooner you initiate the process, the sooner you can obtain a settlement to cover your medical expenses.
Avoid Negotiating Directly with Drivers: If the accident is relatively minor, negligent drivers may attempt to offer to pay for damage to your bike if you agree to not report the event to their automobile insurance company. Do NOT do this. Obtain all relevant details regarding the accident and submit a claim immediately.
Consult with an Experienced Law Firm: Bicycle accident litigation and insurance settlements are multi-faceted and intricate processes; you should not have to handle them alone. The highly skilled Portland bicycle accident attorney at D'Amore Law Group will provide you with a confidential case evaluation to assist you in finding a favorable resolution.
Free Consultation with Our Knowledgeable & Proven Portland Bicycle Accident Lawyer
If you or a family member were injured in a bicycle accident, contact D'Amore Law Group today for a free case consultation. Our bicycle accident lawyers at D'Amore Law Group are experienced with bike collisions and the specific rules that apply in Oregon, Washington, and California.
Our highly-skilled attorneys handle other types of personal injury cases as well, including:
Client Testimony
"I really appreciate everything D'Amore Law Group did on my case…I couldn't have asked for better representation." -Portland, Oregon client injured in a bicycle accident